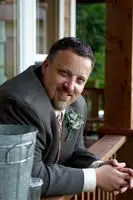 Hello, my name is Brian Warren. I am a Marriage and Family Therapist specializing in individual, couples and family therapy in a variety of areas. I maintain a private practice in Mountlake Terrace, WA.
I am an interactive, solution-focused therapist. My therapeutic approach is to provide support and practical feedback to help clients effectively address personal life challenges. I integrate complementary methodologies and techniques to offer a highly personalized approach tailored to each client. With compassion and understanding, I work with each client to help them build on their strengths and attain the personal growth they are committed to accomplishing.

Talking with and listening to people is something that I have enjoyed doing for most of my life. This natural inclination is part of what led me to become a therapist. Additionally, I truly enjoy helping people in whatever way possible, from service in helping them accomplish some task or helping them through a variety of life situations by simply listening.
I have a Master of Science degree in Marriage and Family Therapy from Seattle Pacific University; a BA in Psychology, a BS in Family Studies and Child Development, and a minor in Sociology from Arizona State University.
I have worked as a counselor in group homes for at-risk youth, been a crisis counselor for family relations, and as a counselor of school-age children in an elementary school. I also have experience working as a counselorin a community-based agency for individuals, couples, and families.
I look forward to working with individuals, couples, and families in walking with them through their life events and situations, such as relationship challenges, life transitions, loss, developmental changes, etc., in helping them resolve concerns and issues they may have. As a therapist, I believe in the strength and power of the people I work with and feel deeply honored when they allow me into their lives and share with me their life stories. I practice therapy from a positive and solution-focused perspective, which means in therapy, I focus on working toward solutions to concerns and issues. I also greatly believe the emotions and experiences people have are important in helping them. Ultimately, I sit with and listen to people and work with them in a way that works for them. My clients' goals and desires for therapy come first - their goals are my goals, and their growth and development toward those goals is what I work toward in each session, in whatever way is helpful and useful for them.

Education

MS, Marriage & Family Therapy, Seattle Pacific University, 2009

Post-baccalaureate Studies - Brigham Young University, 2005-2007

BS, Family Studies & Child Development - Arizona State University, 2001

BA, Psychology - Arizona State University, 2001

Minor, Sociology - Arizona State University, 2001


License, Certifications & Awards

LMFT - 2014 - Present

LMFTA - 2009 - 2014

RC - 2007 - 2009
Additional Training
Domestic Mediation Training

General Mediation Training

Bringing Baby Home

Couple Communication

Prepare/Enrich



Professional Activities and Memberships

AAMFT - 2007 - Present